Ying Li: No Middle Way at Haverford College
Ying Li has been a customer for many years. I had the pleasure of doing a studio visit with her in New York City in February of 2011. Ying Li Studio visit. She was and is deeply engaged in her work. Her current exhibit is at Haverford College where she is a professor of art. The following is excerpted from the press release on the exhibit. 
"One does not so much enter into the landscapes of Ying Li as collide with them," wrote Franklin Einspruch in Art in America last year. Li, a Haverford College professor of fine arts, uses high volumes of oil paint to depict the landscape. She works from a deep engagement with the material and visual possibilities of painting and builds a visceral connection with place. Her latest show, No Middle Way, which runs at Haverford College from Friday, September 7 through Friday, October 12, is curated by Einspruch, an artist in his own right and the founder of artblog.net. What he was initially moved by in Li's work—the boldness of its color, the thickness of the paint, the evocative abstraction of her landscapes—is showcased and explored in his curatorial effort. 
No Middle Way reflects Li's working attitude, the way she enters full-force into unfamiliar territory, both literal and artistic, employing observations, memories, art historical knowledge and pure instinct as she constructs pictures that delight and surprise. The breathtaking, diverse landscapes of Alaska, western New York, New Hampshire and even Haverford's campus tell the stories not only of their locales, but of their creator, a Chinese-born artist with an "exquisite, almost-musical sense of color" (according to The New Yorker).  Those paintings are shown alongside a collection of 13 modern, abstract monotypes that riff on early 18th century paintings by French Baroque artist Jean-Antoine Watteau. Though Li rarely paints people into her landscapes, Watteau does, so those prints allow audiences to see what Li's hand can do with the familiar shape of a head or flounce of a dress in her colorful, kinetic palette.
Li graduated from Anhui Teachers University in China and received an M.F.A. from Parsons School of Design. Her work has been featured in numerous one-person and group exhibitions both in the United States and abroad and is included in many public and private collections. She has earned the Henry Ward Ranger Fund Purchase Award, the Edwin Palmer Memorial Prize for Painting and Certificate of Merit, the Valparaiso Foundation Fellowship, the Kahn-Mason Foundation Grant, two Vermont Studio Center fellowships and two Heliker-LaHotan Foundation Fellowships. Additionally, she was an artist-in-residence at Dartmouth College last spring. She is represented by Lohin Geduld Gallery, New York.
FRAMING SPECIFICATIONS AND ADVICE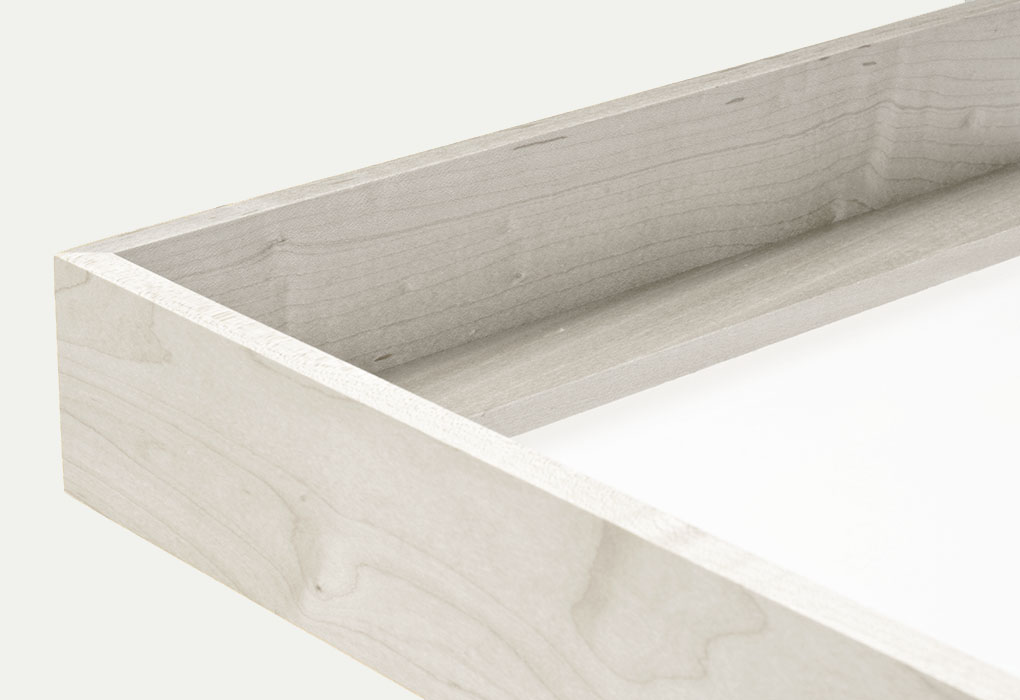 FLOATING FRAME
Standard Floating Profile: 122
Type: floating frame for 3/4" deep canvas paintings
Wood & Finish: maple wood frame with pickled white finish
Purchasing Options: joined wood frame
Framing Advice: fitting floating frames