FRAMING PAINTINGS FOR EXHIBITION
Floater frames have  become a popular way to frame contemporary paintings on canvas or cradled panels because their minimal look does detract from the paintings and they create a strong border to separate the paintings from the wall.
Paintings should be recessed in the frame to provide protection when moving and installing exhibitions.
Floating frames are available in different depths and widths to accommodate small to very large paintings. Most of our painters use the same presentation style (wood  & finish) on all of their paintings. This way the frames will be consistent on all of their exhibitions and can be reused if necessary on new shows.
This slideshow will give examples of using floating frames for painting exhibitions.
PAINTING EXHIBITION SLIDESHOW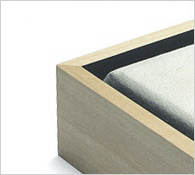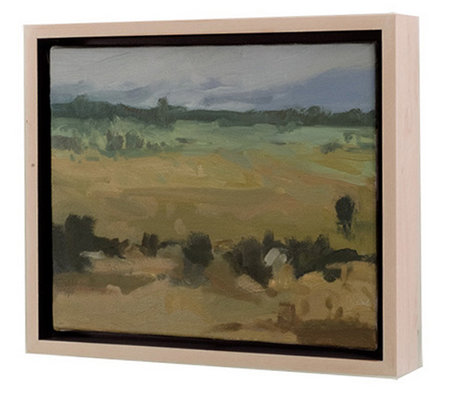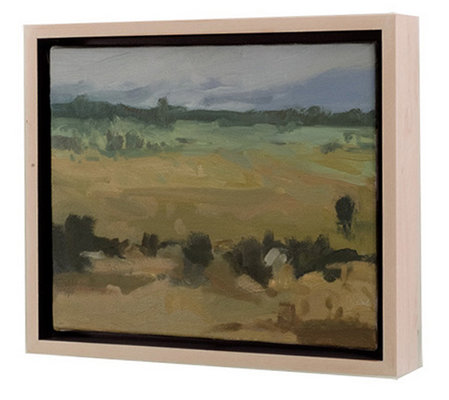 FLOAT SIZE
The float size is the the gap between the sides of the canvas and the inside edge of the frame. The float space is determined by how much you may want to see the sides of the canvas.

SMALL FLOAT SPACE
Select a small float space if the staples are showing on side of canvas, the sides of the canvas is blank, or the sides of canvas sloppily painted.
LARGE FLOAT SPACE
Select a large float space if the canvas is out of square or the image wraps around onto sides. To determine if the canvas is out of square measure diagonally from the top left to the bottom right and diagonally from the top right to the bottom left. If it is perfectly square those two measurement will be the same. Depending how different they are you will need to increase the size of the float.