The following was written by Sally Johnson, the director, and Nicole Watson, the gallery manager, of Groveland Gallery in a response to our request to give fine art students more information about how a gallery works and what the Groveland Gallery is looking for when they decide to represent an artist.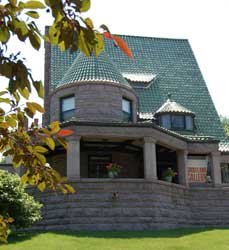 The Basics
Founded in 1973, Groveland Gallery is a Minneapolis fine art gallery specializing in paintings, prints and drawings by contemporary Minnesota and regional artists. Work by Groveland artists is included in private, corporate and museum collections throughout the United States. Groveland Gallery represents over 30 local artists, and exhibitions change every six weeks. The gallery maintains a large inventory of artworks by each of its artists, and offers additional services including appraisals, consulting and collection management, artwork framing and installation.
How does a gallery work?
We can speak to how a regional, Midwestern art gallery operates. Standards and expectations will be different in larger markets such as NY or LA.
There are many different types of galleries. Gallery structures will vary depending on the market, the type of art represented and a gallery's business model. Groveland Gallery is a for-profit commercial gallery, meaning it operates like a retail store with the exception that the gallery does not own the inventory. We have artwork on consignment from the artists we represent. When a piece of art sells, the artist and the gallery each receive a commission. Our type of gallery generally represents a limited number of artists and maintains a long-term relationship with them by exhibiting their work regularly. The gallery also cultivates a group of people who collect the work made by artists represented here.
Other types of galleries include non-profits (for example, SooVac, as well as local college and university galleries), cooperatives (maintained and run by the artists who show there, such as Form + Content Gallery) and artist collectives (such as Rosalux Gallery).
Commercial galleries like Groveland usually have a particular specialty. We represent contemporary Minnesota and regional artists with a focus on representational painting, drawing and printmaking. Circa Gallery is known for its focus on contemporary abstract art; Veronique Wantz represents a largely international group of artists; Weinstein Art Gallery is well-known for its expertise in photography. Like these Minneapolis galleries, we sell only original artwork, and the gallery supports itself through the sales of its artwork. Most galleries take a 50% commission on each sale.
What are the advantages to gallery representation?
Gallery representation frees artists to focus on making their artwork. It eliminates many of the business functions of self-representation: maintaining and showing inventory, mounting exhibitions, marketing and managing sales. Being represented at a gallery provides the artist with a location where their work can be easily accessed during every business day. The gallery also introduces the artist's work to collectors, museum curators and critics. The gallery provides a comfortable space for art enthusiasts to see and purchase an artist's work. A good gallery will promote the work of their artists, give them presence on the web, foster relationships with collectors and provide honest and helpful feedback about an artist's work.
A partnership between a commercial gallery and an artist is most successful when they agree to exclusivity within a specific market. This means that the artist agrees to sell his/her work only through the gallery. If the artist sells his/her work during an art crawl, out of the studio or while in a group show at a non-profit gallery, the gallery will expect to receive its commission on the sale. The gallery's survival depends on exclusivity, and the existence of the gallery ensures the artist will always have a place to promote and show his/her work.
How do you find an appropriate gallery for your work?  How do you approach a gallery?
Do your research. Decide on the market where you would like to show your artwork and spend time visiting the galleries, meeting gallery staff, observing how they greet visitors, display work and what type of work they specialize in selling. Introduce yourself to the gallery staff when you visit but do not ask to show them your artwork on the spot. Follow-up with an email or phone call later, and inquire as to the gallery's protocol for reviewing artists for representation. If you can't visit the gallery, call or email to inquire about submission requirements.
Avoid approaching a gallery for representation if your work does not fit within their area of expertise. You don't want to waste your time and self-esteem sending a solicitation to show your sculptures at a gallery that only shows two-dimensional work.
Once you have identified a gallery where you feel your work would be at home, contact that gallery and ask if they are interested in representing new artists, and if so how would they like to receive your submission. Follow their directions.
What are we looking for?
We look for artwork that will appeal to our collector base. We prefer artists whose work compliments what we already represent without competing with or duplicating it. We also expect to work with professional artists who take themselves seriously. Every artist is a business partner, and this is our livelihood, so it is extremely important that we work together toward the success of the artist and the gallery.
Artists who want to work with us should have a consistent body of work (between 20 and 40 pieces) to show us. Your work should make a statement and make us feel confident in your ability to provide us with a steady supply of inventory. There should be a meaningful thematic and/or conceptual thread in your work that resonates with the overall aesthetic direction of the gallery. This doesn't mean your style can't change or evolve over time. It does mean you can't expect your gallery to show your clay pots when you were accepted for representation based on your watercolor landscapes. If you are an art student, or a beginner artist, it might be wise to wait until you have developed a body of work that is unique to you before approaching galleries for representation.
In addition to a strong body of artwork, we also like to see a well-written artist statement, résumé and bio, as well as a current website and social media accounts. High-quality images of your artwork are a necessity – when you apply for representation at a gallery, digital images of your artwork provide the first impression. If they are out-of-focus or cropped inappropriately, it's hard for us to consider working with you, even if we think we could sell your work.
Finally, your artwork should be made with the collector in mind. This means that your craftsmanship of your art should be solid, sound and stable over time. Sloppy framing, a missing hanging wire, a warped panel or uneven varnish is problematic – if your work doesn't "hold up" once it has gone to someone's home, that reflects poorly on the gallery and the artist, and will dissuade us from carrying your work.
After you become a part of a gallery, what can you expect from the gallery?
As the artist, your expectations should reflect all of the above, too. You should be looking for a gallery with regular hours, a reliable schedule of exhibitions, creative programming and a willingness to collaborate with you. The gallery's specialty should complement and highlight your work, and your pieces should be shown with artwork of equal quality, caliber and price range. The gallery should have a current and easy-to-use website, and active social media accounts such as Facebook, Instagram and/or Twitter. The gallery should have a substantial email and mailing list, and promote your work through as many avenues as possible. You should receive regular communication from your gallery, and your relationship should be clearly articulated as to expectations regarding your exclusivity within the market, your commission on sales, how and when you are paid, how the work is insured, who pays for framing and how often you can expect an exhibition.
Ideally, a gallery will work you into their exhibition rotation. At Groveland, we usually start by including an artist in a curated group or themed show. After a period of time, usually 6 months to a year, it will be obvious if the gallery and the artist are a good fit. We measure this by gauging collector interest, sales, press response, as well as how well we work together. Are lines of communication clear? Is the artist providing work, digital images and meeting deadlines?
Once we feel comfortable with an artist, we schedule a solo show. A solo show is a very large commitment for the both artist and the gallery. It requires the artist to hold back enough work to fill the gallery. The gallery needs to count on enough sales to cover the gallery expenses for that time period. It is important to understand that the gallery has many expensive and fixed monthly costs ranging from rent and utilities, marketing mailings and opening receptions, to salaries and insurance. At Groveland, once we are confident in our ability to work with an artist and successfully place their work in collections, we can provide the artist with regularly scheduled exhibitions, generally every 2-3 years.
The gallery should guide the artist in pricing, creating publicity, marketing and developing an extensive mailing list. When appropriate, the gallery should introduce an artist's work to museums and corporate curators as well as consultants and critics. The gallery should also provide the artist with bookkeeping, inventory and tax forms as required.