#artinthetimeofcorona interview with Ying Li
This is one in a series of interviews with our customers to see how they are adapting to the COVID-19 world.
Ying Li lives in New York City and has been a customer for over 15 years. in addition to painting in her studio she is  an art professor at Haverford College.
Li's work has been featured in numerous solo and group exhibitions, including internationally at Centro Incontri Umani Ascona (Switzerland), ISA Gallery (Italy), Enterprise Gallery (Ireland), and Museum of Rochefort-en-Terre (France); in New York City at Lohin Geduld Gallery, Elizabeth Harris Gallery, Tibor de Nagy Gallery, Lori Bookstein Fine Art, The National Academy Museum, and the American Academy of Arts and Letters.
This is her #artinthetimeofcorona story.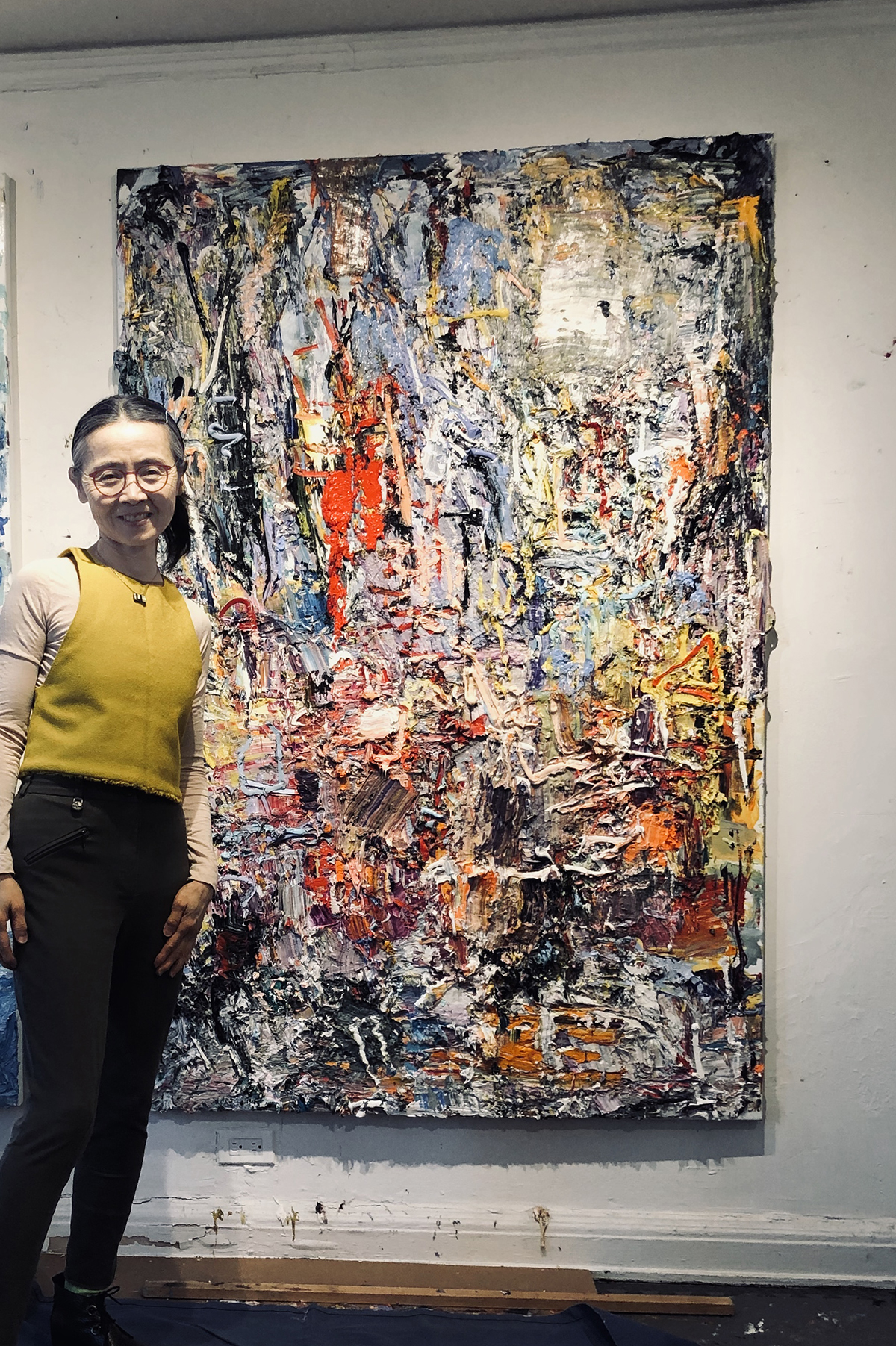 How was New York City affected by the COVID-19 virus? How have you been affected personally?
I am a painter and a professor in Fine Arts at Haverford College, outside Philadelphia. I live and work both in New York City and at Haverford. I have always enjoyed the contrast between the vibration of the big city and the tranquility and beautiful arboretum campus at Haverford. They inspire me in very different ways and keep my senses fresh and alert.
Since the pandemic began I have been staying in our apartment on campus. I have been painting consistently outside on campus and in my studio in the house. I am essentially a landscape painter and I feel very lucky to have the space and nature around me, to be able to live inside of my motifs. My heart is with New York, the most diverse and complex city in the world, the city of artists. I keep in close contact with my friends, most of whom are artists. My thoughts are with them, my mood swings depending on how they are doing.
Do you have a daily routine that keeps you grounded these days? 
My life is grounded in painting. I am a painter, I paint, that is what I do. But there is a difference these days- since I teach full time at the college, I'm always multi-tasking during the academic year. I also travel to paint, do artist residencies, and teach workshops during the summers in normal times. But my scheduled travels and workshops are all cancelled or postponed through this year due to the COVID-19 pandemic. So, the lockdown has provided me, willingly or not, an uninterrupted period to work on a body of paintings, which intensely reflects my feelings and thoughts on the current time.
I usually play 45 minutes of ping pong with my boyfriend in the morning before starting painting. He is a jazz musician and has his routine of practice. I love hearing him practice, it gives me a sense of continuity and inner peace.
I am working and preparing two exhibitions coming up this year. The first one is at the Pamela Salisbury Gallery in Hudson NY, which will run from June 27 through July 28. The paintings in this show are landscapes I painted in different locales in Europe and in the States, most of them are pre COVID-19. Read more in the Hyperallergic review of the exhibition.
The second show will be at Haverford College in September-October where I will show a series of works entirely done during the Pandemic.
Are you reading, cooking, streaming, or doing any activity that is helping you cope?
I am reading Kay Ryan's selections of essays, "Synthesizing Gravity", and rereading Joan Didion's "The Year of Magical Thinking". We cook a lot, take turns. Artists usually are good cooks and good eaters. We have been watching "Treme", a TV series about New Orleanians, including a bunch of jazz musicians, trying to rebuild their lives after Hurricane Katrina. Good characters and devastating stories. It makes me feel so sad after seeing people suffer and, at the same time, uplifted as they persevere during both natural and manmade disasters.
With museums and galleries closed are you seeing a shift to the internet for viewing/selling art?  How is this affecting you?
Internet for viewing/selling art is not new, it has been going on for quite a while. I go with the flow. Fortunately, the galleries where I am showing will exhibit on-line, as well. This gives artists exposure, but at the same time the digital images are not the paintings.
Do you see any positive changes for artists in a post pandemic world?
The only unchanged thing in the world is change. There will always be something changing, if not the pandemic it will be something else. Change is always complicated. I try to be grounded, to know where my core is, to see the permanency in the change. (I think painters are good at that). At the same time, I keep my eyes open, and try to look at the world with new appreciation and intensity.