American Vesuvius: The Aftermath of Mount St. Helens by Frank Gohlke and Emmet Gowin at Cleveland Museum of Art
"Gowin and Gohlke were both innovative, influential practitioners of landscape photography when each decided, independently, to photograph the aftermath of the cataclysmic 1980 eruption of this volcano in Washington State," says Barbara Tannenbaum, the organizing curator and the curator of photography at the Cleveland Museum of Art. "Photographing at Mount St. Helens transformed their approaches to landscape and forever changed the course of their art."
Because access to the mountain was initially limited to flyovers, both photographers took to the air during their initial visit to investigate the newborn land around the mountain. It was Gowin's first experience with aerial photography, a practice that would soon become central to his landscape work. He made several trips there between 1980 and 1986. Gohlke returned to the region numerous times between 1981 and 1990 and his photographs testify to the volcano's destructive force but also chronicle the land's rebirth during its first decade. 
Tannenbaum says that "American Vesuvius is the first time that in-depth selections from Gowin and Gohlke's Mount St. Helens images have been together in a single exhibition. Visitors to the exhibition will have a unique opportunity to compare and contrast the work of these eminent photographers while exploring nature's destruction, then regeneration, of Mount St. Helens."
American Vesuvius is presented in conjunction with The Last Days of Pompeii: Decadence, Apocalypse, Resurrection and will be on view in Photography Galleries from January 13 to May 12, 2013.
About the Artists
Frank Gohlke (born 1942, Texas) has been a leading figure in landscape photography for over three decades. He earned a BA in English Literature from the University of Texas at Austin in 1964 and an MA in English Literature from Yale University in 1966. While at Yale, he studied photography with landscape photographer Paul Caponigro. Gohlke has received numerous awards including two Guggenheim Foundation Fellowship and grants from the National Endowment for the Arts and the Gund Foundation. His works have been exhibited at the Museum of Modern Art, the Art Institute of Chicago, the Cleveland Museum of Art and the Minneapolis Institute of Art among others.
Emmet Gowin (born in 1941, Virginia) has been a prominent figure in photography since 1970s. He earned a BA in graphic design from Richmond Professional Institute (Virginia Commonwealth University) in 1965 and an MFA in photography at the Rhode Island School of Design in 1967. Gowin taught at Princeton University for 25 years and has influenced innumerable photographers through his own work and his academic career. He has received numerous awards including ones from the Guggenheim Foundation, National Endowment for the Arts, Pew Foundation and the State of Pennsylvania. His works have been exhibited widely at museums such as the Cleveland Museum of Art, Philadelphia Museum of Art, the Detroit Institute of Arts and the Museum of Contemporary Art, Chicago.
"American Vesuvius: The Aftermath of Mount St. Helens
by Frank Gohlke and Emmet Gowin"
January 13 - May 12, 2013
Cleveland Museum of Art
FRAMING SPECIFICATIONS AND ADVICE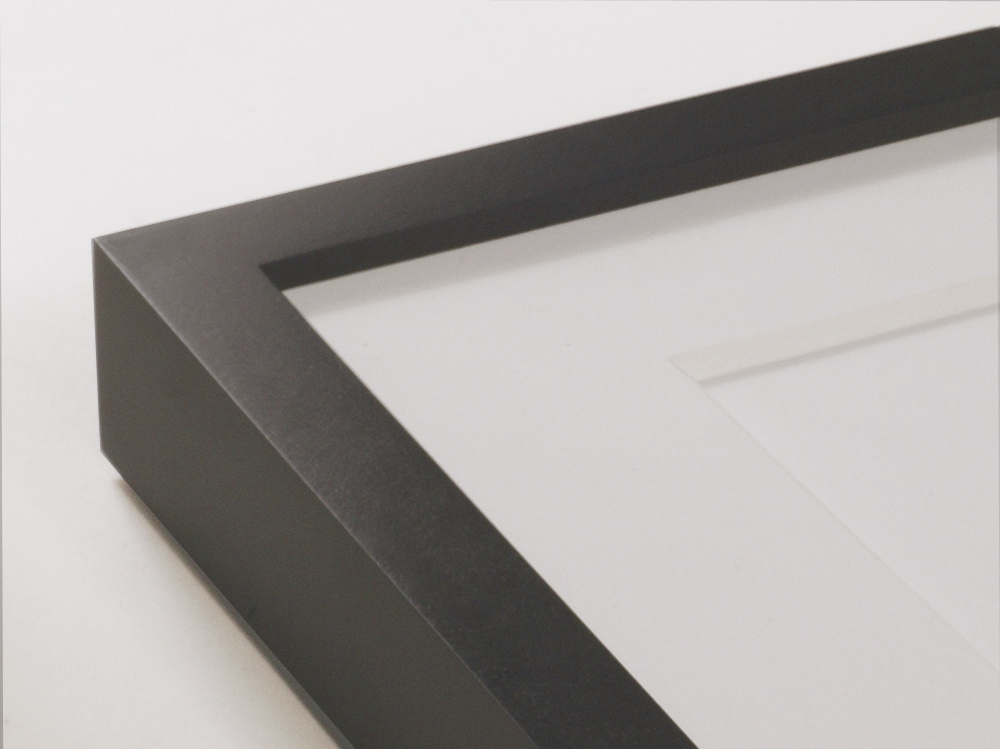 METRO GALLERY FRAME
Standard Profile: 106 and Thin Profile: 114
Type: Standard Gallery Frame and Thin Gallery Frame
Wood & Finish: maple wood frame with black opaque finish
Purchasing Options: joined wood frame with splines
Custom Wood Strainers: 1/2" & 3/4" wood frame strainers
Framing Advice: fitting gallery frames