Jamie Kinroy 1st MFA framing award winner
Providing professional framing advice to art students has been a long term goal of ours. For artists to be successful as they enter their professional life it is necessary to understand how to present their work professionally. After meeting with the director of graduate and undergraduate studies at the University of Minnesota, Metroframe has established a framing award for one  BFA and one MFA student. Our goal is to help the student understand the basics of framing their work and to help us better understand what we may need to do to make the process easier for them.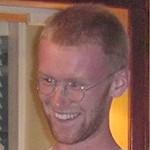 The first MFA student award winner is Jamie Kinroy. Jamie Kinroy is a Scottish artist who makes drawings, paintings and prints. He completed his BA in drawing and painting at Edinburgh College of Art in 2010. After graduating, Jamie drew, exhibited, and helped found the artist's collective Clusterbomb. In 2011 he moved to Minneapolis and began his MFA at the University of Minnesota. To learn more about the artist  read the  interview done in Brockigraphica.
ARTIST STATEMENT
My work is rooted in comics, but rejects sequential illustration, 'plot' or single narratives, and is instead focused solely on intricately designed locations or environments. The images work together in the aim of building a comprehensive picture of a personal urban cosmology; an imagined, but contemporary and global city, built out of my influences and lived experience of a range of places – Scotland, Minneapolis, Japan.
Functioning in a similar way to the open-world environments of the current generation of video games (like Skyrim, Red Dead Redemption and Grand Theft Auto V), my work aims for the possibility that viewers might put themselves in, and imaginatively navigate the spaces I construct.
ABOUT THE EXHIBITION
brown study
n. a state of serious absorption or abstraction
The Katherine E. Nash Gallery presents brown study, a group exhibition of seven artists about to complete the Master of Fine Arts degree in the Department of Art at the University of Minnesota. The artworks are made in a diverse range of media including ceramics,drawing, painting, printmaking, sculpture, photography, installation, sound and video.
Artists Included in the Exhibition
Miranda Brandon,  Terry Hildebrand,  Teréz Iacovino,  Jamie Kinroy,  Marie Schrobilgen, Michelle Summers and Ryan Wurst
brown study
n. a state of serious absorption or abstraction
April 8 – April 26, 2014
Katherine E. Nash Gallery
Regis Center for Art, University of Minnesota
FRAMING SPECIFICATIONS AND ADVICE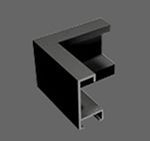 NIELSEN METAL FRAMES
Profile: Nielsen Profile 117
Finish: black metal frame
Framing Advice: fitting metal frames