Brian Dailey WORDS at American University Museum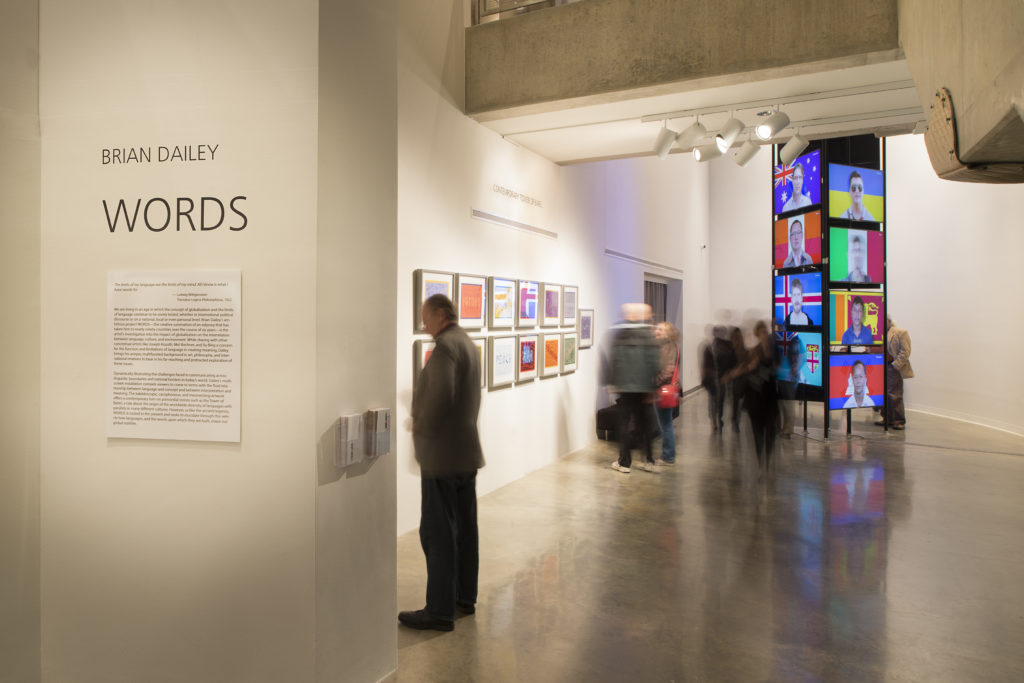 Brian Dailey's towering, multi - screen video installation WORDS — the creative summation of an odyssey that took him to nearly ninety countries over the course of six years — is the artist's investigation into the impact of globalization on the interrelation between language, culture, and environment. While offering a contemporary turn on primordial stories such as the Tower of Babel, the kaleidoscopic, cacophonous, and mesmerizing structure is rooted in the present and seeks to elucidate through this inventive vehicle how languages, and the words upon which they are built, shape our global realities. A powerful visual expression of the challenges faced in communicating across linguistic boundaries and national borders in today's world , WORDS also reveals the captivating dynamism of humanity in the expressive, physical presence of the range of personalities who come to life on the flickering screens.
Against the backdrop of an international geopolitical landscape undergoing tumultuous and historic changes, Dailey created a list of thirteen words that spoke to larger philosophical concerns facing humanity and found international resonance: Peace, war, love, environment, freedom, religion, democracy, government, happiness, socialism, capitalism, future, and United States. He visited public and private venues on all seven continents, set up his camera and green - screen backdrop in various locales, and invited passersby to be interviewed. A local facilitator presented each of the thirteen words in the participants' native language and invited them to express — in a single word —the first impression each of the nouns evoked.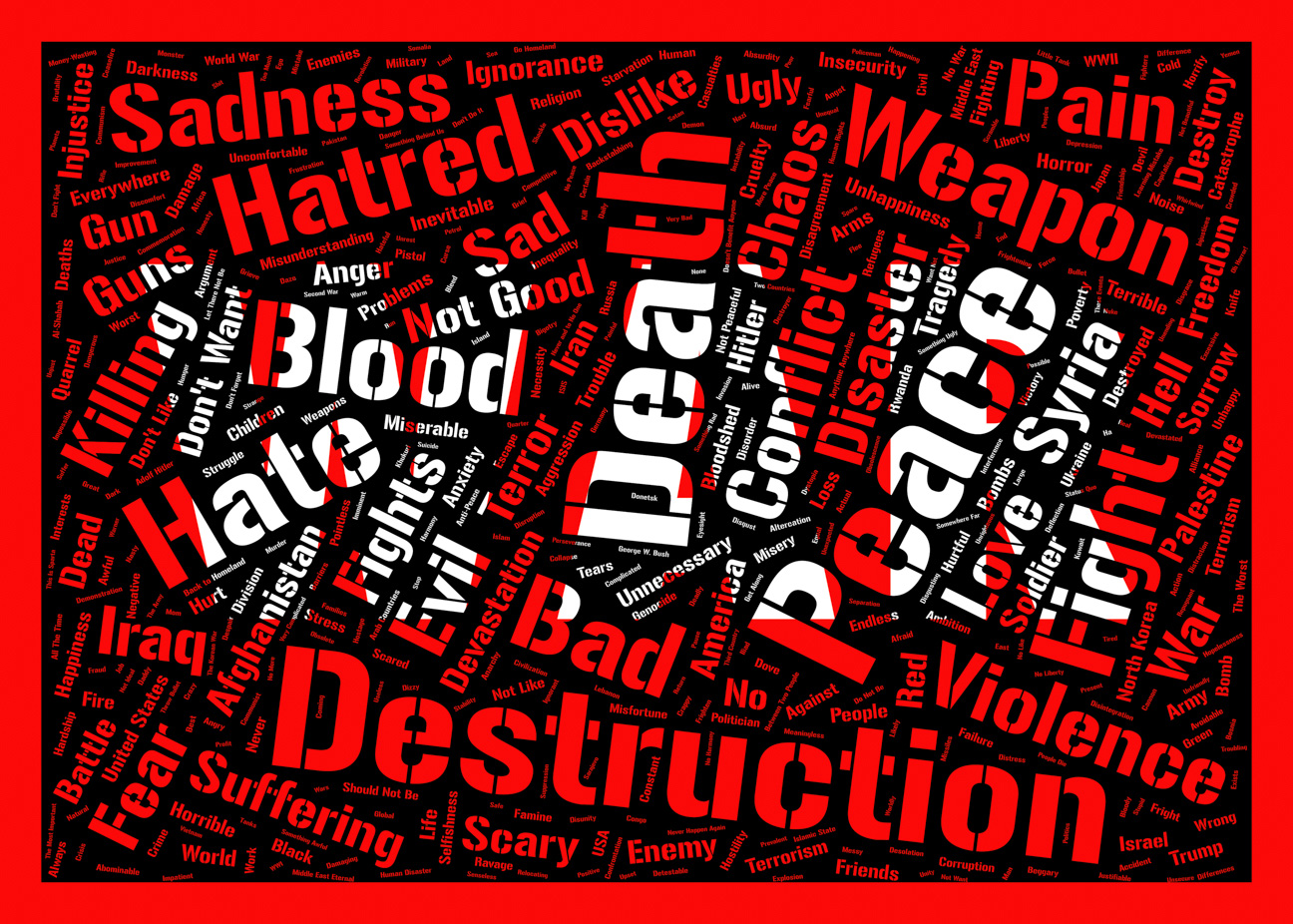 Brian Dailey "WAR", 2018 Inkjet on Photo Museum Etching paper 18 x 22 in
Most frequent responses from around the world: Peace, Death, Destruction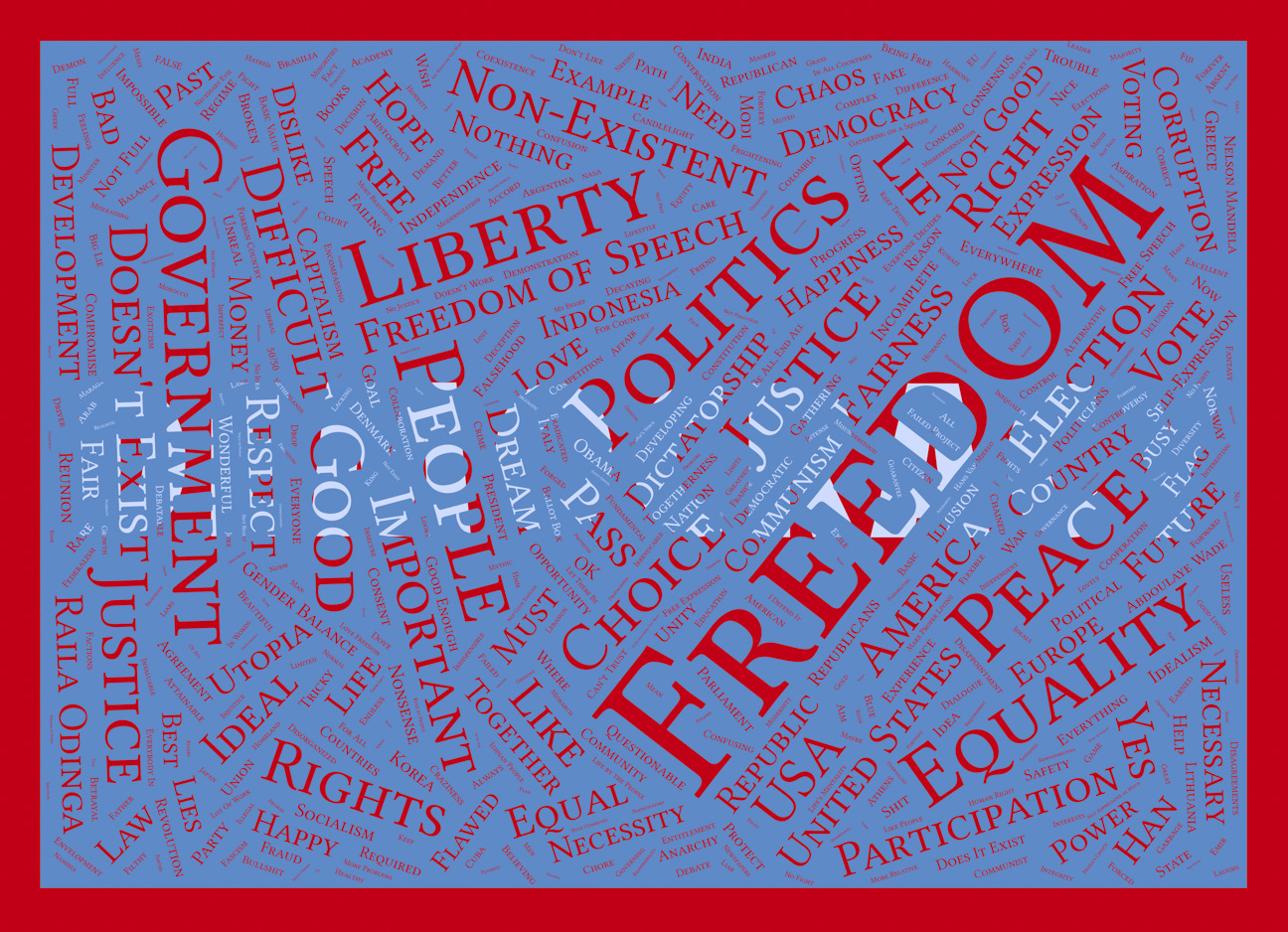 Brian Dailey "DEMOCRACY" 2018 Inkjet on Photo Museum Etching paper 18 x 22 in
Most frequent responses from around the world: Freedom, Politics, Liberty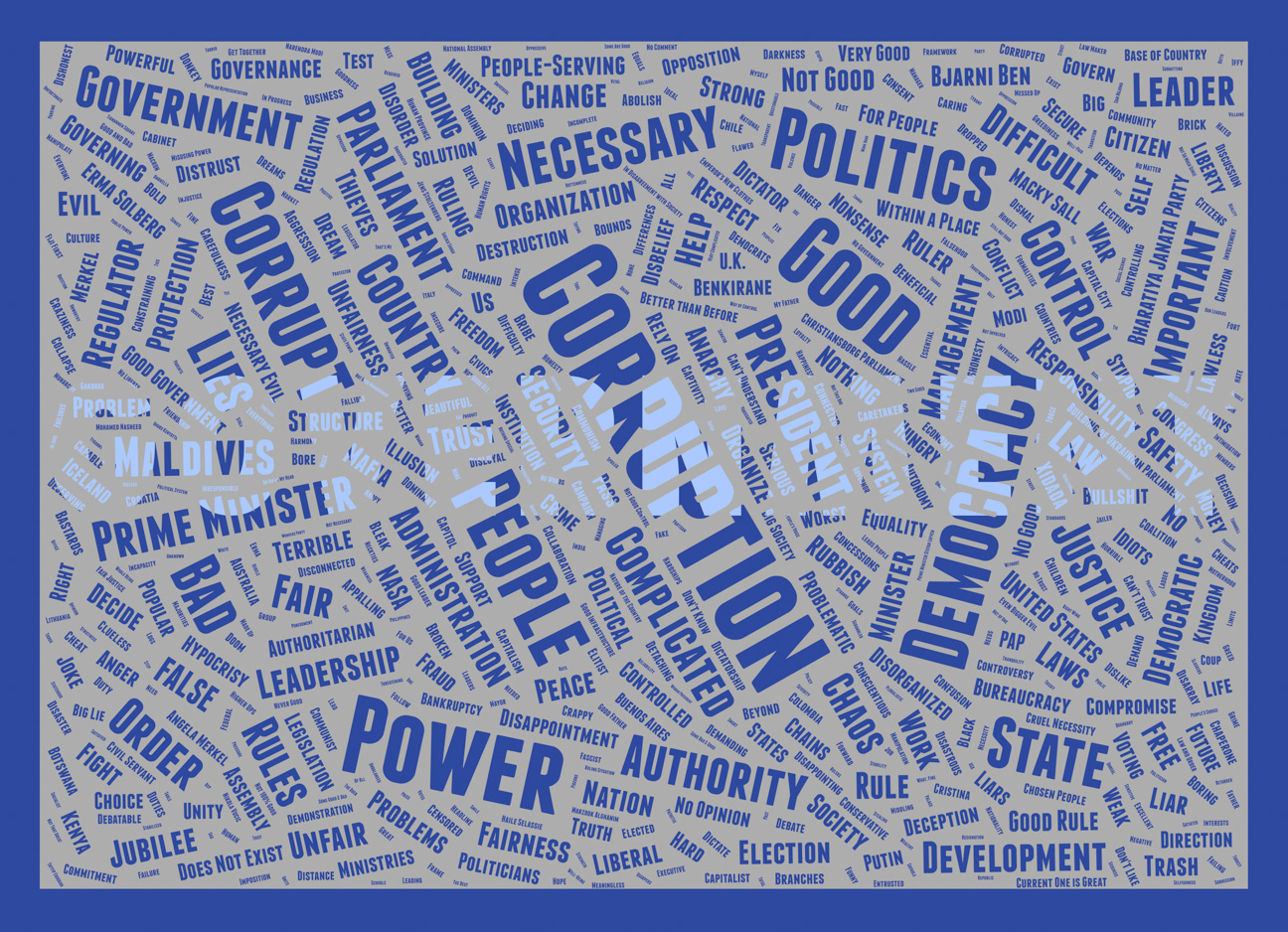 Brian Dailey "GOVERNMENT" 2018 Inkjet on Photo Museum Etching paper 18 x 22 in
Most frequent responses from around the world: Corruption, Power, Good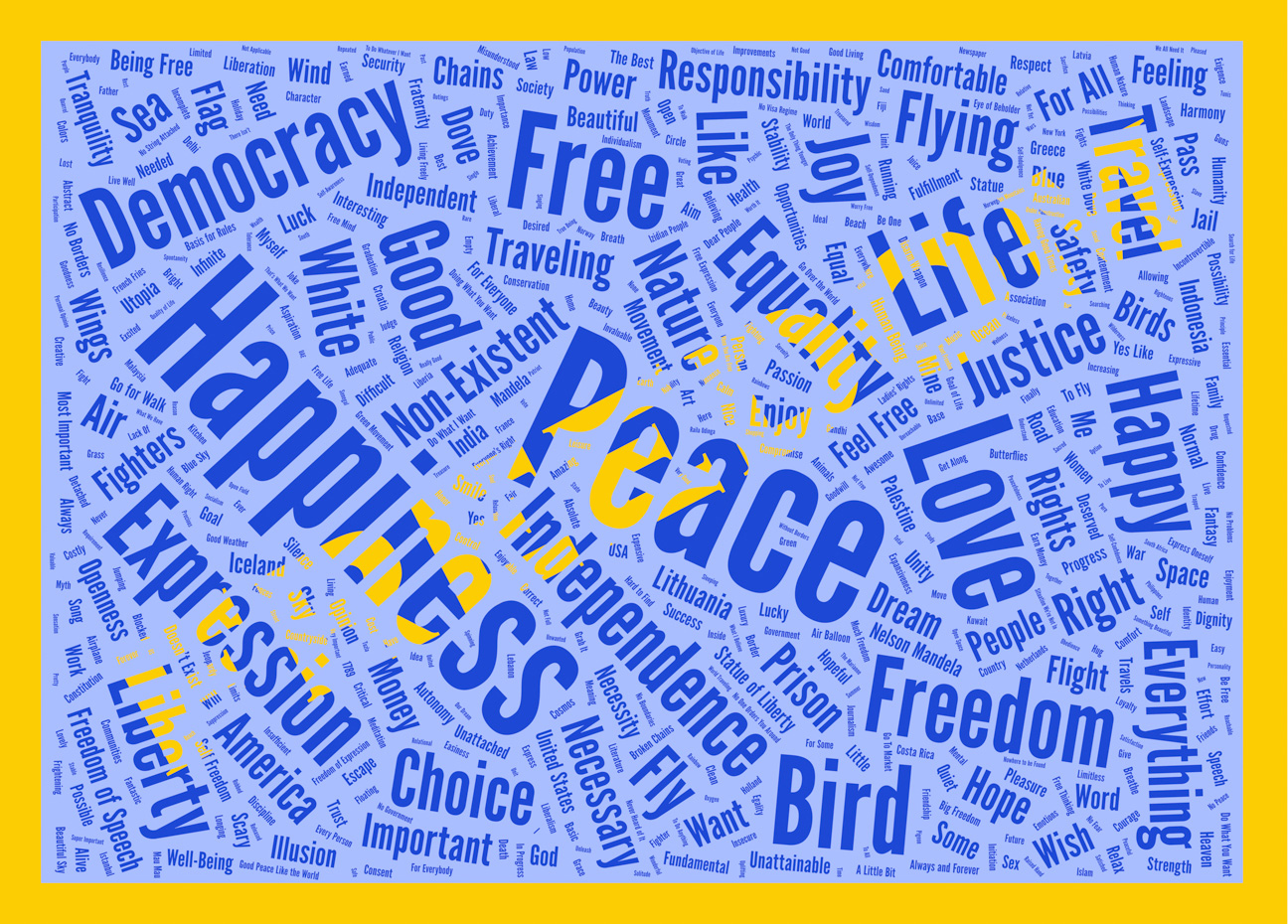 Brian Dailey "FREEDOM" 2018 Inkjet on Photo
Most frequent responses from around the world: Peace, Happiness, Life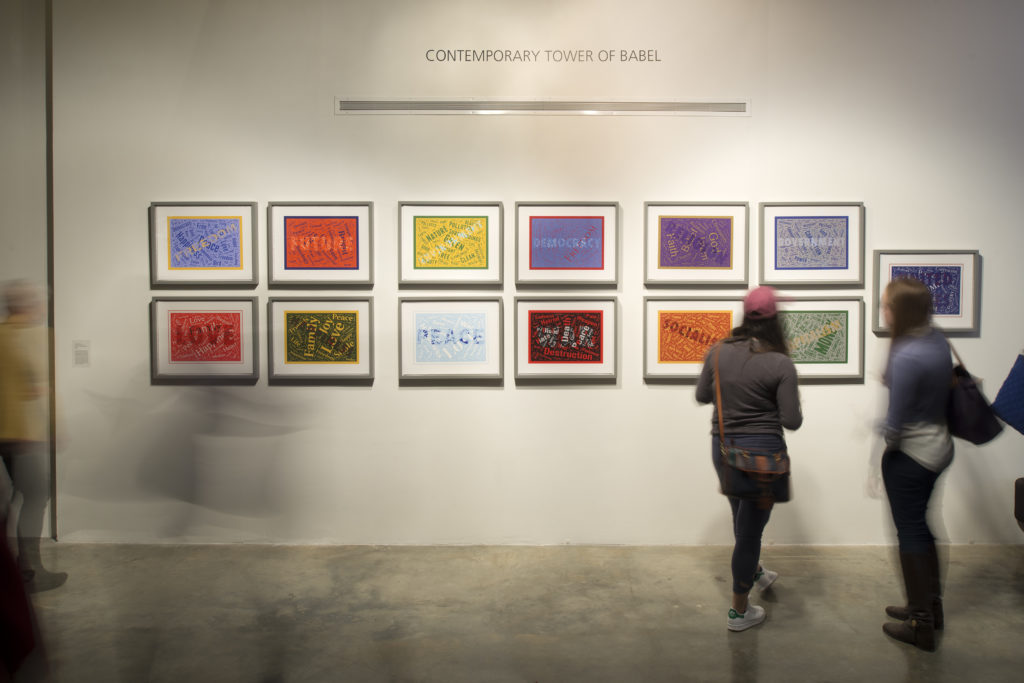 Words about WORDS
Represented in these prints is every word uttered by the nearly 2,000 participants who responded to the thirteen prompts propelling this project. Giving voice to each and every individual who engaged in the WORDS endeavor, the various responses were calibrated and scaled to reflect the frequency in which they were articulated. The textual array manifest in this print series silently mirrors the poetic elements emanating from the towering installation while visually mapping the same territory.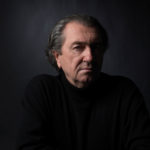 Perhaps no word better characterizes Brian Dailey (b. 1951) than polytropos, the first adjective Homer applies to Odysseus in the Odyssey. Translated from the Greek as "well traveled," "much wandering," and, in a more metaphorical sense, as "the man of many twists and turns," polytropos suitably describes Dailey's life journey and its many peregrinations. As a student at Otis Art Institute (MFA, 1975) and in his ensuing art career in Los Angeles, Dailey participated in the pioneering creative experimentation defining the prolific artistic milieu in California in this era. His early career launched him on a path that—before bringing him full circle back to his roots as an artist—took him through a twenty-year interlude working on arms control and international security. These unusual experiences, which he approached with the same curiosity that has driven his art, provide a fertile source of inspiration in his idiosyncratic creative practice. As the artist states:
There is art in politics and politics in art. Throughout my life two passions stimulated my curiosity: art and international politics. The tension between two interests generated my intense inquiry into these seemingly diametrically opposed professional fields. In the context of my career, the wanderings through a labyrinth of artistic and intellectual encounters provided a lifetime of eclectic experiences, which, in turn, supplied a bounty of material for my art.
Based in the Washington DC metropolitan area, Dailey is an artist whose work in a range of media, including photography, film, installations, and painting, draws on his multifaceted life experiences. His conceptual and performance based art expands the parameters of the mediums in which he works, defying easy categorization. Engaging with the social, political, and cultural issues of our times, his work is informed by his unusual background and unconventional evolution as an artist.
See more information about the artist and this project: http://www.briandaileyart.com/words/
Brian Dailey WORDS
January 27 - March 11, 2018
American University Museum
Washington, D.C.
METRO GALLERY FRAME
Profile: 101 Type: Floating Gallery Frame
Wood & Finish: maple frame with painted dolphin finish
Purchasing Option: joined wood frame
custom wood spacer: 1/2" matching wood frame spacer
Custom wood strainer: 3/4" wood frame strainer
Custom frame acrylic: 1/8" regular acrylic cut to size
Custom frame backing board: 1/8" acid free foamboard cut to size