Collectors make a difference
The South Dakota Art Museum has received an extensive, growing donation of valuable fine art prints that offer visitors an encyclopedic collection of printmaking from the 1960s, 1970s and early 1980s. The collection includes impressive examples of pop, op, abstract, color field and photo-realist art. The donation comes from Neil C. Cockerline, a former preservation services director and senior conservator with the Midwest Art Conservation Center in Minneapolis, MN in memory of his late mother Florence L. Cockerline. From initial appraisals, the value of the collection in today's art market ranges between $500,000 and $1 million. 
The collection currently contains more than 400 prints and will continue to grow with the South Dakota Art Museum as its permanent home. The Cockerline Collection features more than 100 notable artists including Jim Dine, Robert Rauschenberg, Robert Motherwell, Andy Warhol, Henri Matisse and Robert Indiana.  The works are all original prints which means the artist was present or had strict control of the piece during the printmaking process. After each edition is completed, the plate or screen used to make the print is destroyed, making all the pieces in the collection rare.
"I chose to donate this collection to the South Dakota Art Museum because I knew the staff and university are very supportive of the museum, and they have a reputation of professionalism and a commitment to preservation. The collection will also attract people to the museum. There isn't a collection like this in the state or nearby." Cockerline selected each piece to be included in the first exhibition. The South Dakota Art Museum plans to schedule many local exhibitions, as well as send the collection to other venues. Cockerline donated the collection in honor of his late mother because of her influence as his artistic mentor as a child. The donation will be used to educate SDSU students in many departments on campus. "When I put the collection together it was basically to form a context of printmaking from 1960 to 1982," said Cockerline. "I always wanted it to be a teaching collection."  Museum interns will gain experience handling, cataloging, researching and preserving contemporary works of art. History and political science students will be able to visually see the impact social unrest and current events of the period had on the visual arts. 
Lisa Scholten, SDAM Curator of Collections, said the donation impacts the public by exposing people to rarely seen art. "It would take visiting hundreds of different museums to view all of the prints that now call the South Dakota Art Museum home," said Scholten.
FRAMING SPECIFICATIONS AND ADVICE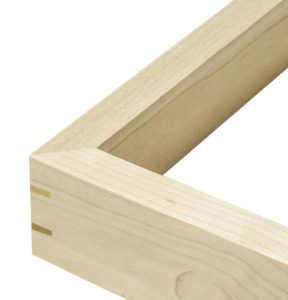 METRO GALLERY FRAME
Standard Profile: 101
Type: Standard Gallery Frame
Wood & Finish: maple wood frame with clear lacquer finish
Purchasing Options: joined wood frame with splines
Custom Wood Strainer: 3/4" wood frame strainer drilled behind
Framing Advice: fitting gallery frames