Lines Etched with the Weight of Life: Georges Rouault's Miserere at The Snite Museum of Art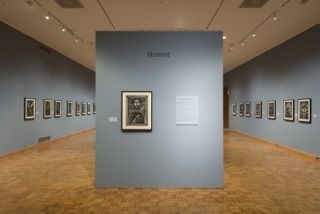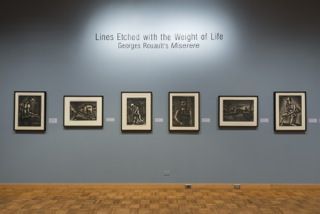 In response to the ravages of World War I, French artist Georges Rouault (1871–1958) produced a portfolio of drawings, which were reproduced as heliogravures, a process combining engraving and photography. Dissatisfied with the results of the reproductions, the artist continued to modify the plates using a variety of printmaking techniques in un-conventional ways.  What he achieved was an entirely new object whose surface physicality created a spiritual space in which the viewer's mind focuses upon the transcendent truths expressed by the artist. Although printed in 1927 under the supervision of the artist, the prints remained in storage until 1948 when they were finally published.
"Lines Etched with the Weight of Life: Georges Rouault's Miserere" is a haunting series of 58 works on paper.  The title, "Have mercy on me, O God" is taken from Psalm 51, and is considered a monument in twentieth-century printmaking.  This is the first time the Snite Museum of Art will present the series, described as a powerful lamentation of the human condition, in its entirety.
Compared with some of the most famous graphic sequences in history, including Albrecht Dürer's Little Passion, Jacques Callot's Caprices, and Francesco Goya's Disasters of War, Miserere uniquely combines overtly religious iconography with modern, subtle and introspective portrayals of human misery and salvation.  Prints by these artists are also included in the exhibition to illustrate Rouault's homage to tradition and his endless innovation.
"Lines Etched with the Weight of Life: Georges Rouault's Miserere"
January 13 - March 10, 2013
The Snite Museum of Art
University of Notre Dame, South Bend, IN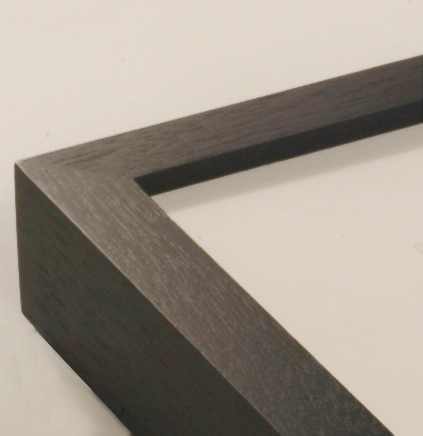 METRO GALLERY FRAME
Standard Profile: 106
Type: Standard Gallery Frame
Wood & Finish: walnut wood frame with dark walnut finish
Purchasing Options: joined wood frame
Framing Advice: fitting gallery frames