Andrea Pramuk at Georgetown Art Center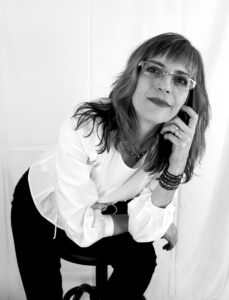 Texas painter, Andrea Pramuk, creates organic, drawing-based abstractions. Her pictures may seem familiar at first glance, but on closer inspection, they are not things or places that exist, but rather lyrical subjects whose dialogue originates out of line, color and light. She looks to ephemeral subject matter that is constant throughout time, reminiscent of stone, sea, sky and botanical forms – all traditional painting subjects.
Andrea uses acrylic paint and dye-based pigments within a system that includes a carefully mixed color palette, paint pouring and drawing techniques, working both flat and at the easel. She arrived at this current method of working due to physical limitations with manual dexterity and also for technical reasons like drying times and limited time constraints. Pouring paint for Andrea is like building sediment layers in stone, creating wave patterns in sand and bringing about tree rings born out of drying paint puddles shrinking one ring at a time. Her process and subject matter, therefore, are both temporal and symbiotic. Poetry comes into play with her choice of titles, often borrowed from music lyrics, poetry or books, while also folding in themes from current events.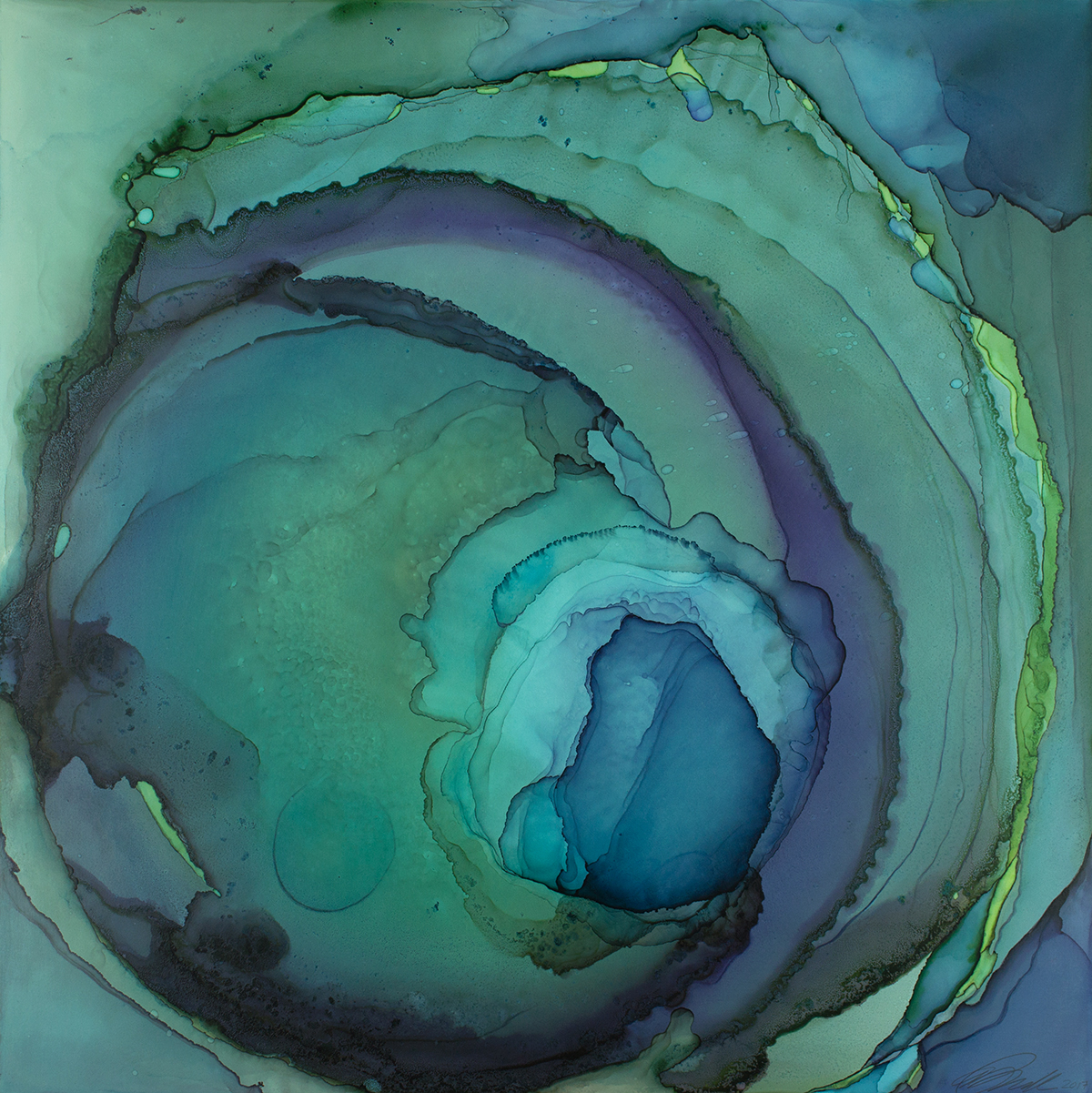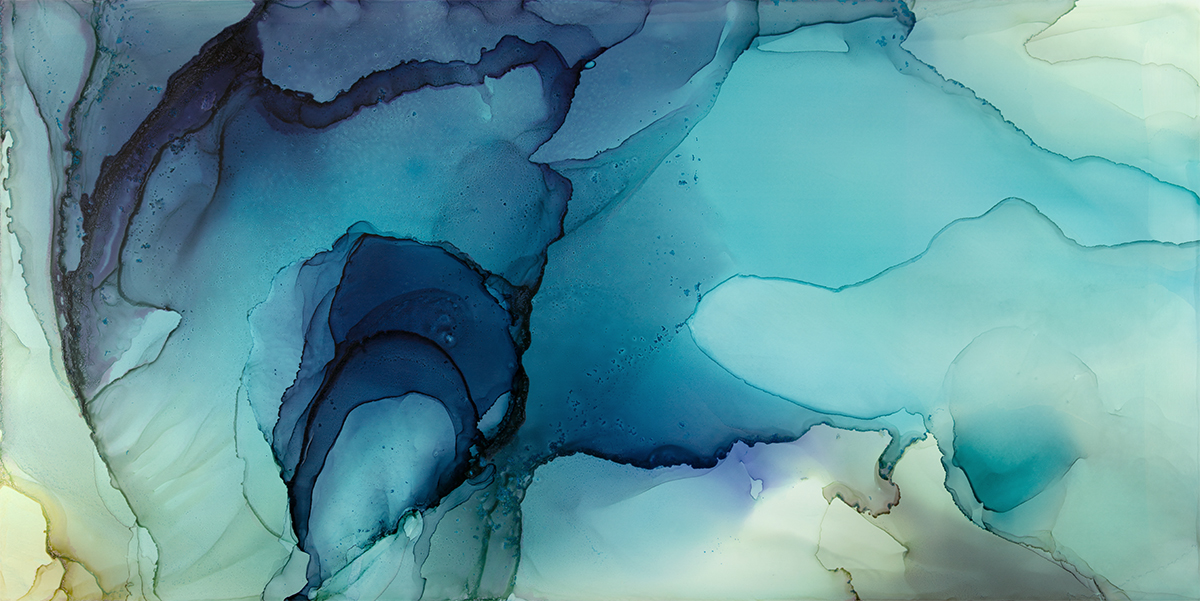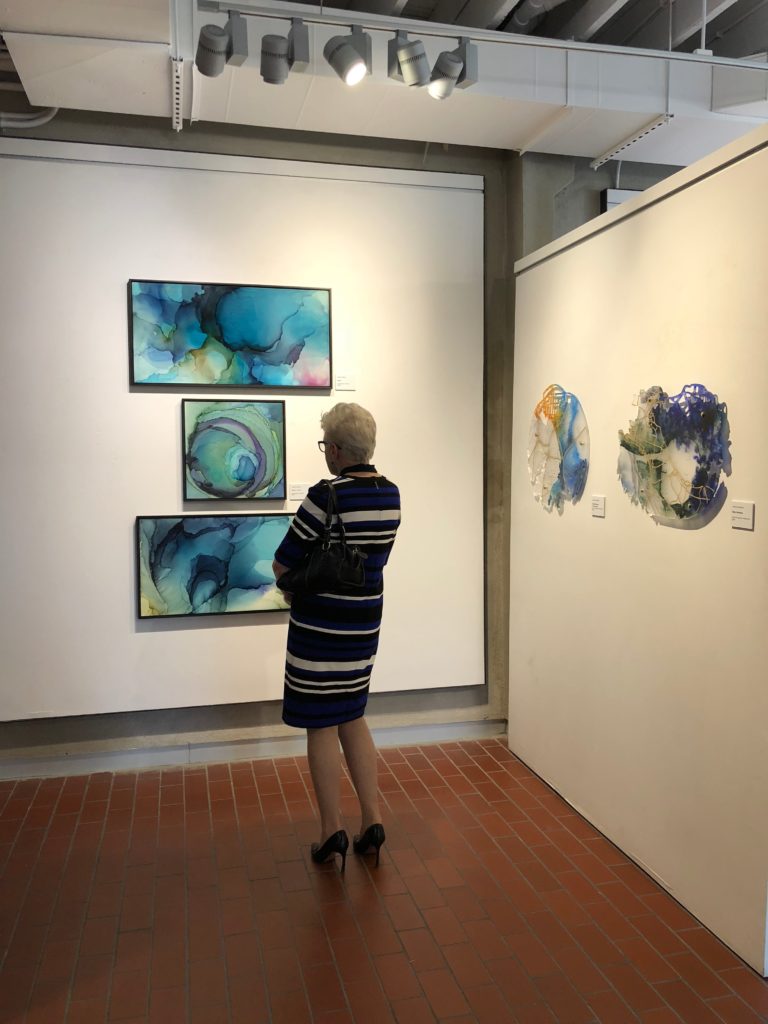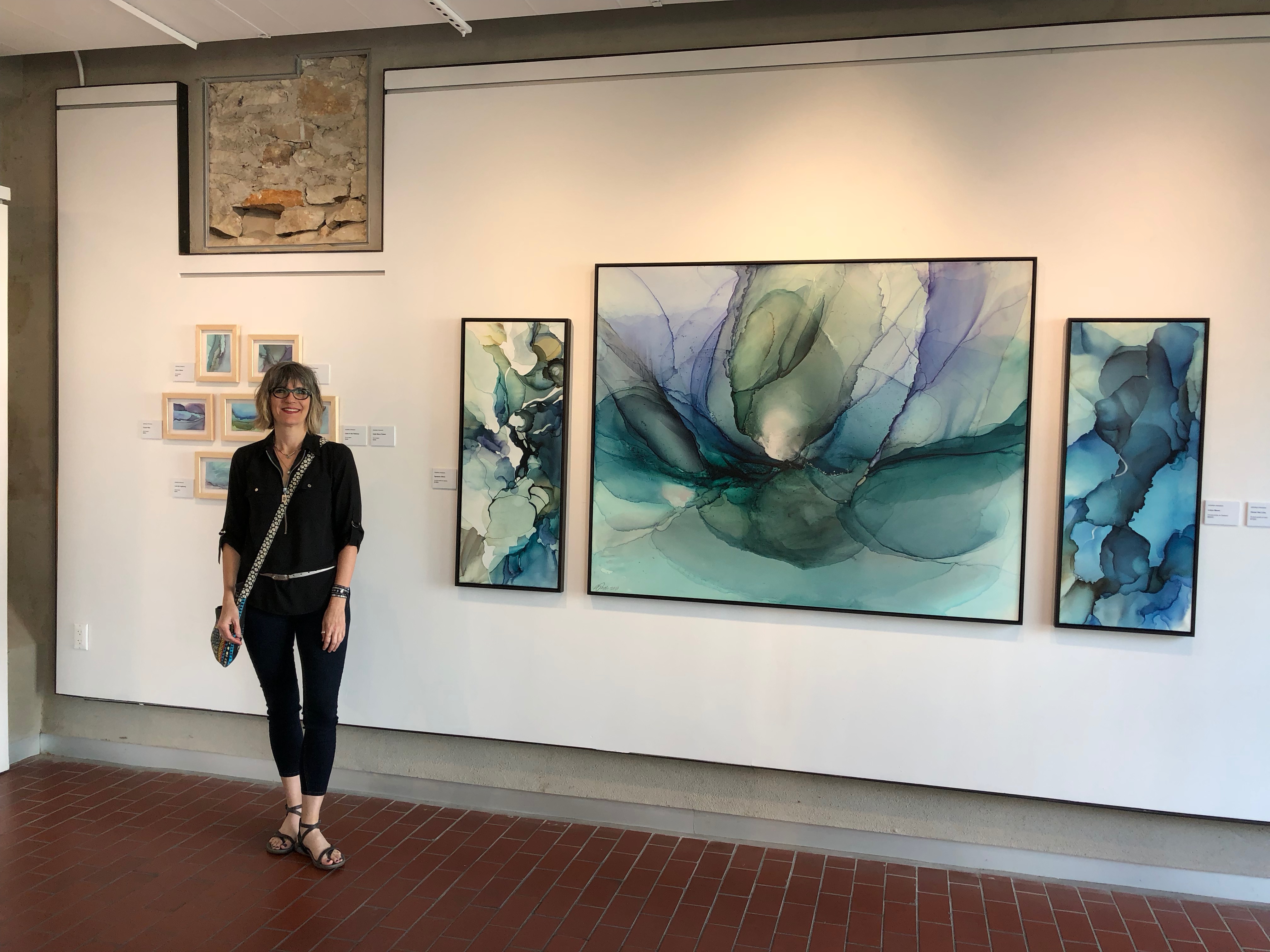 Georgetown, TX: Fluid Worlds is a three-person exhibition at the Georgetown Art Center with artists Andrea Pramuk, Greta Olivas and Lindsey Dunnagan. From the curator Stuart Wallace, "The work of Lindsey Dunnagan, Greta Olivas, and Andrea Pramuk explore breath-taking fluid worlds in unique ways. Fascinating techniques produce unexpected results; prepare to get lost in these artworks."
ANDREA PRAMUK
Austin-based painter Andrea Pramuk received formal art training at LSU in Baton Rouge, Kansas City Art Institute, the University of Texas at Austin and the SACI program in Florence, Italy. After an extensive marketing and product development career in the artist materials industry, she continues the exploration of materials and systems through her experimental and abstract work in mixed media.
LINDSEY DUNNAGAN
Lindsey uses nontraditional techniques to explore human interaction with the natural environment.  She is the Assistant Professor of Art in Painting at Truman State University.
GRETA OLIVAS
My work is full of color, which is usually the first thing people are drawn to. As the paintings are examined more closely their energy draws the viewer in. I believe my work is energy, or emotions that come through and end up on the canvas. They may seem like celestial bodies, but to me, they are a bigger understanding of the universe and our place within it.
I have always been drawn to abstract work and the power it has. When someone states they 'felt' one of my paintings, or it provokes emotion in someone, I know I was successful in transmitting energy through the painting.
I have been an artist since I was a child. I studied in several workshops, but I'm mostly self- taught.
I was born in New York City, grew up in Argentina, and have lived the majority of my life in Austin Texas.
Fluid Worlds
June 29 - August 5, 2018
Georgetown Art Center
Georgetown, TX
METRO FLOATER FRAME
Profile: 122
Type: floater frame with and without cradled panel
Wood and Finish: maple with charcoal finish
Purchase Option: unjoined frame cut to size with wedges